Event registration for FS East 2017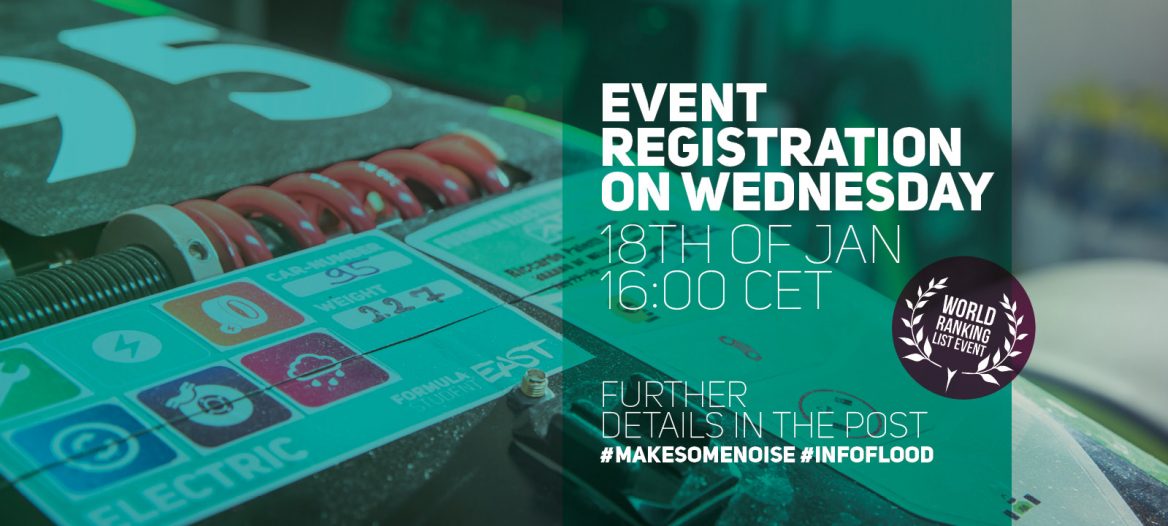 In 2017, 60 teams from all over the world have the chance to participate at FS East with 40 combustion and 20 electric slots. Two days before the event registration we can see that the claims for the slot categories have changed based on the registered team profiles. We are working really hard to be able to expand the electric slots in the near future, without compromising the quality of the event.
We hope you're as excited about the event registration as we are. (: Read our quick guide below for the most important things you need to know about the process.

Not registered yet?
Hopefully you've already created your team's profile - or even two of them in case you'd like to compete in both categories -, if it's still ahead of you, click below to start.
Event registration Period 1 opens on Wednesday, 18th January at 16:00 (CET).
The links of the IC and EV Registration Quiz Forms are have already been published on our Registration page, but only can be filled out at the exact time, when the quiz starts. Please be patient and open the link in advance.
We also created a dummy quiz page where you can test if your browser is ready to pass the quiz.
Feel free to check the dummy quiz on this link.
If it works for you, you will be able to pass the live quiz without any technical problems.
You'll have to log in with your username and your password or unique identification number that you received via e-mail after team registration to start the quiz.
The registration order will be determined based on the number of right answers and the time of finishing the quiz. There will be single and multiple choice questions. Please note that if you don't answer a question correctly we add an extra 60 seconds to your time, so choose your strategy wisely! (; In case of multiple choice questions we add the 60 seconds only once, not for every wrong choice!
Your event registration will be complete after you submit your quiz and see your place on the quiz page order.
Please make sure you have a valid team registration until 18th January 15:00 CET

- one hour before the live registration process starts.
What happens
after that?
You will see the starter and waiting list order just after the quiz with your penalty points separated into regions (A-B-C-D) and category (IC-EV).
After successfully filled the quiz you may have to choose a new car number for your team.
If you may choose a number which is already taken by another team the system will automatically ask you for a new one. The numbers can be choosen in first come-first serve order.
In case you get a starter position, celebrate!
We're going to contact you the next day regarding the payment process.
After that you'll have 10 working days to transfer the registration fee to make your participation official.
If you find yourselves on a waiting list, don't panic!
We're going to fill up the empty slots from the waiting list teams in the 2nd and 3rd period of the event registration. You have a good chance to get a slot until the end of January.
Opportunity for waiting list members
Event registration Period 4 is an opportunity for the top waiting list teams to have their documents checked along with the starter teams to avoid penalty points due to late submission if they get a starter position later.