FS East 2018 starter lists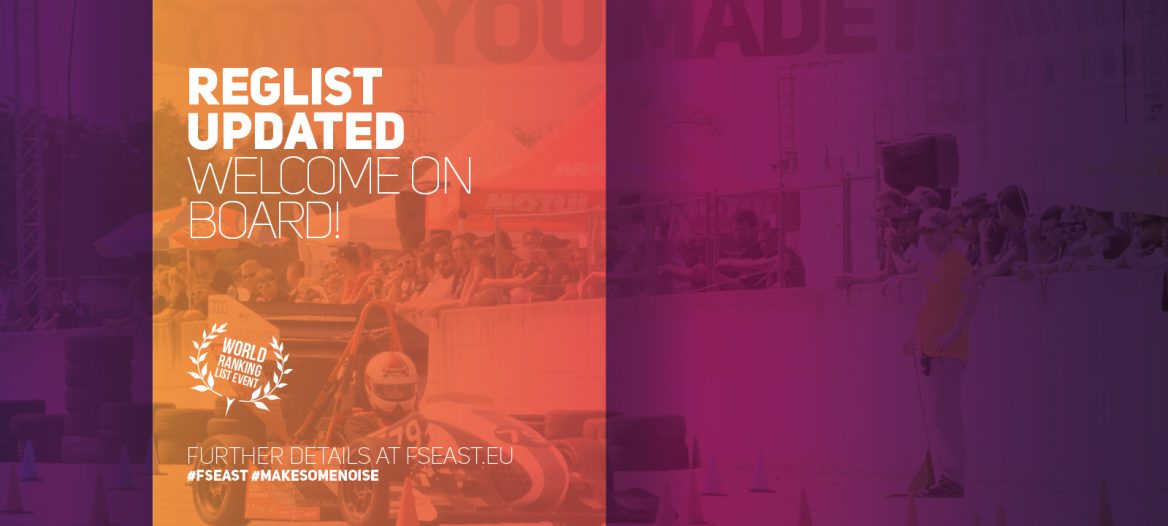 We have the list of confirmed starter teams of the 2018 FS East competition! (: During Period #2 and #3 of the event registration all open slots have been filled with new teams from the waiting lists. There are overall 61 teams from 20 countries on the current starter lists of the three categories.
COMBUSTION STARTER LIST

1
KA-RaceIng
DE
2
Formula Student Team Weingarten
DE
3
UniBo Motorsport
IT
4
Sapienza Corse
IT
5
UPBracing Team e.V.
DE
6
High-Octane Motorsports e.V.
DE
7
SUFST
GB
8
municHMotorsport
DE
9
FaSTTUBe
DE
10
LUMotorsport
GB
11
Lund Formula Student
SE
12
MoRe Modena Racing
IT
13
RIT Racing
US
14
FSUPV Team
ES
15
Arrabona Racing Team
HU
16
Cerber Motorsport
PL
17
Prom Racing
GR
18
YTU RACING
TR
19
Aristotle Racing Team (ART)
GR
20
PUT Motorsport
PL
21
TU BRNO RACING
CZ
22
UNI Maribor Grand Prix Engineering
SI
23
RITEH RACING TEAM
HR
24
CTU CarTech
CZ
25
Formula Racing Miskolc
HU
26
STES's STALLION MOTORSPORT
IN
27
Orion Racing India
IN
28
Rennschmiede Pforzheim
DE
29
Rennteam Uni Stuttgart
DE
30
CAT-Racing
DE
ELECTRIC STARTER LIST

1
ETSEIB MOTORSPORT
ES
2
TU Darmstadt Racing Team
DE
3
HorsePower Hannover
DE
4
Metropolia Motorsport
FI
5
Ecurie Aix Formula Student Team RWTH Aachen e.V.
DE
6
Delta Racing Mannheim
DE
7
Racetech Racing Team TU Bergakademie Freiberg e.V.
DE
8
University Racing Eindhoven
NL
9
Formule SAE de l'Université Laval
CA
10
eForce FEE Prague Formula
CZ
11
UoP Racing
GR
12
Aristotle University Racing Team Electric – Aristurtle
GR
13
STUBA Green Team
SK
14
Superior Engineering
SI
15
AGH Racing Electric
PL
16
DJS Thunderbolt
IN
17
Formula Student Team Delft
NL
18
KA-RaceIng
DE
19
GreenTeam Uni Stuttgart e.V.
DE
20
FS Team Tallinn
EE
21
BME Formula Racing Team
HU
DRIVERLESS STARTER LIST

1
TUfast driverless
DE
2
KA-RaceIng
DE
3
Revolve NTNU Driverless
NO
4
TU Darmstadt Racing Team
DE
5
BME FRT Driverless
HU
6
BeElectric
TR
7
UNI Maribor Grand Prix Engineering DV
SI
8
Formula Student Team Weingarten Driverless
DE
9
Chalmers Formula Student Driverless
SE
10
e-gnition driverless
DE
What happens now?
In Period #4 of the registration starting on 10th February, 2018 we invite the top 8 combustion, 4 electric and 2 driverless teams on the related waiting lists to pay the first part (300 EUR+VAT) of the registration fee. These teams will have their documents checked during the season along with the starter teams and in case of a withdrawal, the open slot will be offered for them considering the registration order. For the current status of the waiting lists check our Registered Teams page: